Search Dog Network Featured in local Media
Search Dog Network would like to thank the Bryan-College Station Eagle for Wednesday's wonderful article.  We appreciate the opportunity to share the hard work of our two legged and four legged team members with the community!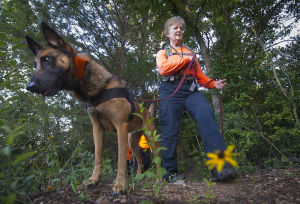 Stuart Villanueva/ The Eagle
K-9 handler Mary Haislet of the Search Dog Network and her dog, Noggin, trek through the woods while training at Lake Bryan on Tuesday.
Follow the link for the full article: Training Pays Off for Bryan's Search Dog Network