Katie Breland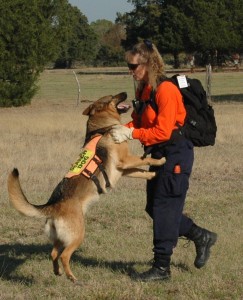 Katie Breland began training dogs and horses for other people in 1982.  In 1984, she started tracking and training in the art of Schutzhund, a German Police Dog Sport consisting of tracking, obedience & bite work.
In June of 1987, Katie joined her first Search and Rescue Team based in the DFW Area called C.E.S.A.R. (Children Education Search & Rescue).  She certified Kristi, a female German Shepherd Dog (GSD), in wilderness air scent and worked her in tracking and water.  During the next few years, she trained in Swift Water, Cave, and High Angle Rescue and competed with a team at Garner State Park for a few years.  She received a ECA at a local junior college, later her EMT at Texas A&M.  She graduated from A&M in May of 1993 with a Bachelor's degree in Wildlife & Fisheries.
Katie joined Search Dog Network in April 2001 and through the years has certified and deployed as a Search Manager, a Search Technician as well as a Canine Handler with the canines listed below:
Keetah, a female GSD, certified as a Type I Wilderness Air Scent Dog and she also worked in Cadaver and Water until she retired in 2005 due to blindness (Search career: 2001-2005)
Falko, a male GSD, passed his Schutzhund III and was a Type II Wilderness Tracking Dog until he was retired due to injury.(Search career: 2001-2004)
Retta, a female GSD and Falko's daughter, was a superstar search dog from the moment she was born.  She passed her first Type III Wilderness Air Scent (40 acres day test) with SDN at 6 months in 2003, her Type II Wilderness Air Scent (80 acres night test) with SDN at 9 months in 2004 and then moved on to pass the NASAR K9 SAR Tech III in Air Scent, Type I Wilderness Air Scent with SDN, and the NASAR Disaster 1st Responder Certifications in 2005.  To keep her on her toes she also trained in Wilderness Trailing, Article Search and later in life certified in Human Remains Detection with NASAR.  Retta continued to amaze people with her desire and ability to find people and articles in seemingly impossible conditions.  She searched up until she died of cancer in 2014 (Search career: 2003-2014)
Aziva, a female GSD and Retta's daughter, has followed in her mom's paw prints by being certified as a Type II Wilderness Air Scent Dog with SDN as well as dual certifying with IPWDA in Wilderness-Live Find, Human Remains-Land and Human Remains-Water both in 2015 and most recently in 2017 just 12 weeks after CBLO surgery! (Search career: 2009-current)
In January 2007, Katie joined Texas Task Force 1 (TX-TF1)as a Canine Search Specialist.  In April of 2008, she passed the FEMA Certification Evaluation test with a TEEX owned Black Lab named Ice.  Ice was again certified with FEMA in 2011 but had to be retired in 2012 due to injury.  (Search career: 2007-2012)
When Ice retired in 2012, Katie changed positions within TX-TF1 from a Canine Search Specialist to a Technical Information Specialist and a few months later to a Plans Team Manager.  In 2015 she took a full-time Training Manager position with TEEX / TX-TF1 where she now has the best job in the world doing search and rescue work for a living :-0).
Katie currently lives in Bryan with her husband, two daughters, K9 Aziva and K9 Ice.