Kim Stewart
Kim Stewart, DVM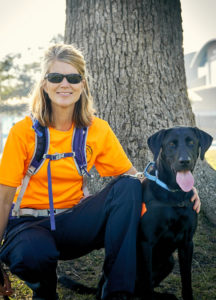 Kim grew up in Ohio and has worked in the veterinary field since she was 15 years old. She received her doctorate in veterinary medicine from The Ohio State University in 1989. She practiced from 1989-1992 in small animal medicine and surgery in San Antonio, Texas. She relocated to College Station, Texas with her husband, Randy Stewart in August of 1992 and worked as a relief veterinarian until January 1994 when she established College Hills Veterinary Hospital where she currently practices small animal medicine and surgery. Kim is licensed to practice veterinary medicine in Texas and Ohio and is also a USDA Accredited Veterinarian.
Kim joined Search Dog Network in November 2016. She certified her first Human Remains Detection canine, Seamus, a black Labrador retriever in March 2017.
Kim is a HRD Canine Handler, Search Specialist and Team Veterinarian for the Search Dog Network.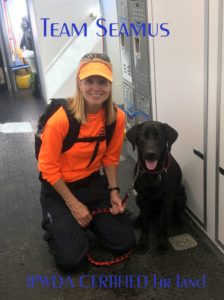 Certifications:
IPWDA (International Police Work Dogs Association) Human Remains Detection land March 2016.
NASAR (National Association for Search and Rescue) Search and Rescue Technician II March 2017
NASAR Search and Rescue Technician III October 2016
Certificate of Achievement FEMA ICS-100 September 2016
Certificate of Achievement FEMA ICS-700 October 2016
CPR/AED, Standard First Aid and Blood Borne Pathogens January 2017
Course work, training and Search and Recovery Seminars:
Brazos Valley Child Abduction Response Team Exercise, Navasota, TX December 2017
Alpha Search and Recovery Human Remains Detection Seminar, Trinity, November 2017
TEES Foundations of Courtroom Testimony (16 hours) July 2017
TEES Swift Water Awareness Course April 2017
Brazos Valley Search and Rescue Exercise, Gibbons Creek January 2017
Crime Scene Preservation College Station Police Department January 2017